Image
Continuing Education Credits
Earn credits for attendance at our livestream event. CAS members will earn 1 CE credit per 50 minutes of educational time with a potential for up to 13.8* CE credits.
Speakers in Actuarial Science
Attend popular educational sessions offering clear presentation materials and key points, to gain real-time insights into industry-related topics.
Meet other virtual attendees and speakers! You can access chat features, live Q&A and interactive polls for an immersive conference experience.
Get access to livestream recordings. An extra $100 will give you five-year access to recordings of the entire conference.
Can't make it to Philadelphia?
Join us virtually!
We have expanded our livestream and are excited to be bringing CAS events straight to your home or office. Now you can enjoy the conference even if you are unable to make the trip! You will have access to high-quality livestream events both days and can choose one of two sessions in each block. Livestreamed sessions are noted with a
in the Schedule of Events. Participate in live panel Q&A, chat with other virtual attendees, and earn continuing education credits - all in an easy-to-access virtual platform.
We would love to see you in Philadelphia, but we will settle for seeing you in a square. Make plans to attend the livestream events today!
For a smooth digital experience
Technical Requirements
Google Chrome 30+
Firefox 27+
Microsoft Edge
or Safari 9+
Desktop
Microsoft Windows 8.1 or above
MacOS 10.14 or above
Android
Version: Android 8.0 or above
Browser: Chrome or Firefox
iPhone
Version: iOS 12 or above
Browser: Safari, Chrome, Edge or Firefox
Download speed of at least 5 mbps is recommended. Check your connection at www.speedtest.net.
Registration Fees
 
Early Reg. Fee
by May 5
Late Reg. Fee
after May 5
CAS Member Full Event
$600
$700
Non-CAS Member Full Event
$700
$800
Post-Meeting Session Recordings
+ $100
Registration fee is for one individual CAS member registration and includes all three days of livestream. Pick your day! Each person must register individually in order to obtain CE credit. Post-meeting session recordings from the entire conference are an additional $100.
For assistance with attendee registration, please email acs@casact.org.
Early-bird pricing for livestream registration ends May 5.
Registration Closes: May 31, 2023, 11:59 PM ET
* All three days of full livestream event includes events shown in the livestream schedule below.
Cancellation/Refunds
Registration fees will be refunded for cancellations received by the CAS Office on or before May 22, 2023, less a $25 processing fee. Only written cancellations will be honored. Please send cancellation requests via email to refund@casact.org.
Interested in registering six (or more) of your employees?
Group Registration
If you are interested in registering six (or more) of your employees for the 2023 CAS Interactive Live Streaming: Reinsurance, we have discount pricing as listed below! Please note that the only discount will be for the full event and will apply to both CAS members and non-members.
Once a bulk registration is purchased, the purchaser will be emailed a discount code unique to their organization. This discount code will allow the organization's employees (in increments of six) to self-register for the 2023 CAS Interactive Live Streaming: Reinsurance at no cost. Specific registration details will be provided with the discount code.
Note: Bulk registration will close on May 22, 2023, to allow time for all registration to be processed prior to the vendor deadline.
| | | |
| --- | --- | --- |
| GROUP REGISTRATION QUANTITIES | NORMAL PRICE | DISCOUNTED PRICE |
| Group of 6 – full event only (6 for the price of 5) | US $3,600 | US $3,000 |
| Group of 12 – full event only (12 for the price of 10) | US $7,200 | US $6,000 |
| Group of 18 – full event only (18 for the price of 15) | US $10,800 | US $9,000 |
| Group of 24 – full event only (24 for the price of 20) | US $14,400 | US $12,000 |
Group Registration Instructions
For the employer to obtain this code, they will need to:
1. Login to CAS Store.
2. One representative from an organization registers for the quantity of bulk registrations (in multitudes of 6), add to cart, and complete the purchase.
3. The representative will receive an email from the CAS with the discount code to distribute to the correlated number of employees. For example, if purchasing a bulk of 6, you will distribute the code to 6 employees.
Once an employer has the code and distributes it to the appropriate number of employees, individual employees should:
1. Login to CAS Store to register for the 2023 CAS Interactive Live Streaming: Reinsurance
2. Add "Full Event Individual Registration" to the cart, regardless of price shown.
3. Apply the discount code. This will give them a zero-balance fee.
4. Click "Next" until they 'Submit Order' and receive a confirmation email.
5. A confirmation email will be issued upon completion of registration.
Another email will follow closer to the event date that will include login instructions.
Individuals may find this sample registration video helpful: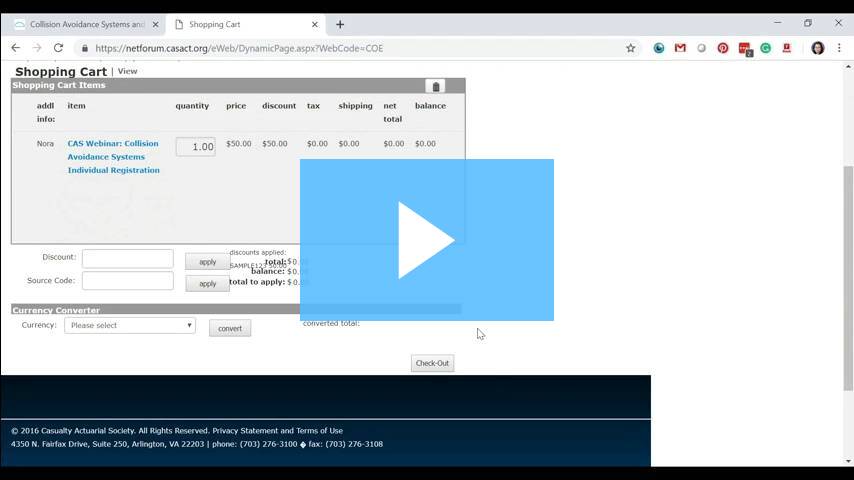 Livestream Schedule
NOTE: The particular sessions will be designated by April 15.
Check the livestream box, and sessions that are livestreamed will appear in the schedule box. 14 options total.
Sessions will be livestreamed on the following days:
Monday, June 5
Tuesday, June 6
All times are in Eastern Time.
Welcome/General Session 1 - Views from Inside the Hard Market
Concurrent Sessions 1 - Franchise Valuation Using Public Data
Concurrent Sessions 2 - Cyber Insurance 2023: Challenges and Opportunities
Concurrent Sessions 2 - Property Cat State of the Market
Concurrent Sessions 3 - Professionalism Session 1
Concurrent Sessions 3 - Ceded Re in a Hard Market
Concurrent Sessions 4 - Macroeconomic View of Reinsurance
Concurrent Sessions 4 - Swan Whispers: How to identify and manage emerging risk
Concurrent Sessions 5 - Simulation Uncertainty – How Reliable are Our Tail Statistics
Concurrent Sessions 5 - Florida Market - How Should it Change
Concurrent Sessions 6 - Professionalism Session 2
Concurrent Sessions 6 - Wheels: 7-year, no warranties
Concurrent Sessions 7 - Insuring AI: How Insurance Can Support AI Development
Concurrent Sessions 7 - Mortgage and Inflation
General Session 2/Closing - P&C Industry Outlook – An Analyst View